Français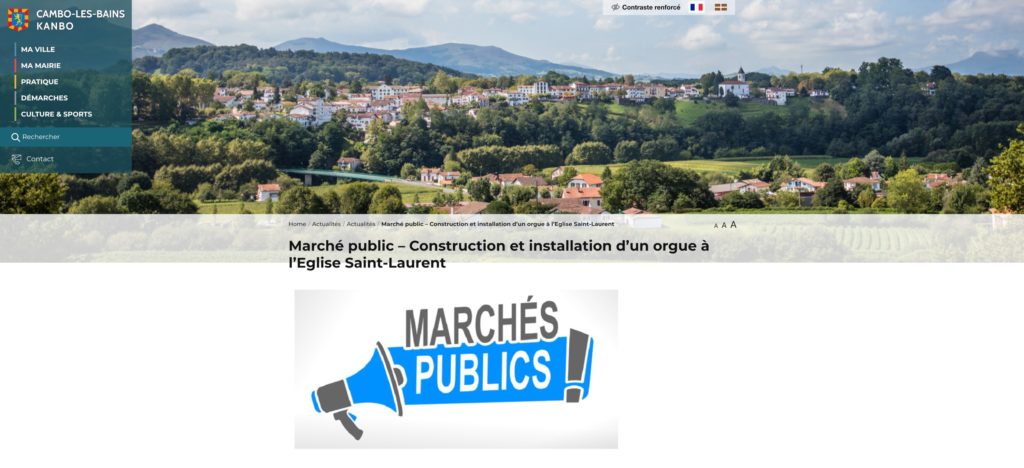 The call for tenders is online. It's official ! So, it is a great event for our association and we hope to succeed in this project ! The call for tenders is on the Website of the town hall of Cambo les Bains. As well it is a very important step for the association Les Amis de l'Orgue Saint Laurent de Cambo. And then, the call for tenders institutionalizes the project. It formalizes the request and its title is "construction and installation of an organ at Saint-Laurent church". The subject of the call for tenders details the supplies and technical services expected.
WE NEED YOU ! WE ARE STARTING THE CALL FOR DONATIONS
To realize our project of building a baroque organ requires a lot of money, that's why we need your help.
REMEMBER :
It's About the acquisition project of a baroque organ for the church St Laurence in Cambo
This quality instrument that will have a triple mission :
Cultural :
In order to promote the organ music and musics able to be associated to organ
Liturgical :
The organ will be able to contribute to the beauty of the liturgical celebrations
Pedagogic :
The new baroque organ shall become an attraction spot for the organ class of Bayonne conservatory Music classes of local schools will be shown over the organ. The association shall support the launch of "masterclasses" by Thomas Ospital in connection with the Dutch style baroque organ of Ciboure
We suggest that
YOU MAKE A DONATION for an organ pipe or BECOME OUR PATRON
Your donations will help us make this wonderful project a reality !

And for the lows budgets we created the little donation option (called free donation)
DO YOU HAVE ANY QUESTIONS ?
Please click on the contact page and leave us your mail adress
Or send us a letter :
Les amis de l'orgue Saint Laurent de Cambo
Centre multiservices
14, rue de la mairie
64250 Cambo-les-Bains
France


Français